Customer Comments
Hello, J.E.R. ,
Thank you for the kind words! It is good to hear they are serving well. I hope Nebraska is seeing enough, but not too much! snow!!!

Sent Jan. 26, 2017
I love your beautiful and comfortable hats. My family and I continue to enjoy our Nebraska wonderland with these lovely treasures on our noggins.
J.E.R., Chadron, Nebraska
Many Thanks, R.J!!! We love our yarn work!
KCR
Sent Nov. 2, 2015
Received green headband today and am very happy. Would like the off white one, and later today I will order another one – the brown . . . . I would highly recommend you to all and know your service is top notch, excellent quality.
R.J.M., Wilmington, Delaware

R.,  We love our cold weather gear here too this winter!!! You are right about the colors – they have rich tones and a deep sheen – better than photos can show.   The mohair wool blend is spun by  Brown Sheep Company in Mitchell, Nebraska, and it only gets softer with age.
KCR
Sent Nov. 28, 2014
Thank you so much for the mohair wool ski cap. It is really fantastic. It's the warmest and softest I've ever owned and really, really comfortable here in Iowa.  .  .  . I've been  wearing this hat and the colors attract as well and people notice it.  .  .  . Thank you for making these hats with such care.  .  .  .
R.S., Fairfield, Iowa
Hello, B.,
Thank you for letting us know the outcome is right. You knew and we knew the right size!!! . . . . There is nothing better for a business than recommendations from satisfied customers. Your good words are much appreciated!!!
KCR
Sent April 11, 2014
I received my hat today and it fits perfect. You are the best people I have ever dealt with on any purchase I have ever made in person and via internet. I look forward to doing more business in the future.  Once again thank you.  I will be telling everybody to check out your website.
B.W., Columbus, OH

Sent April 9, 2014
These people are the best people I have ever dealt with. Their customer service is far above anything I have ever experienced. I originally ordered a medium beanie. Upon receiving it, it was larger than I was really wanting. I didn't contact them because I was aware of their return policy; instead they contacted me and asked how it fit, and I explained it to them and said that I planned to order another one when I could spare the money. They replied explaining they thought it might have fit big because of a past customer, and that if I remeasured my head that they would make me another one, which shipped the next day. Thank you guys for being so nice and helpful
B.W., Columbus, OH
Hello, W.,
Thank you for the feedback and kind words. It is good to know the hat has the look it should and what information will help you and other customers choose exactly what you need.
This is excellent wool, a yarn preferred by knitters and yarn shops, but the yarn type is bulky and must be loosely knit – not enough protection by itself with extreme weather. It appears plain microfleece liners might make a big difference, something we are working on.
To loosen the wool slightly, wash and then lay out flat slightly stretched. Directions for washing below.
With wishes for a warm and calm spring there,
Kathleen

The gray knit hat that I bought was beautiful.  Maybe a little smaller than I wanted, but it looks fabulous.  Unfortunately, it was not very warm.  I visited Kazakhstan, and our daily high was about 20 – 25 F.  This hat just didn't help much.  Perhaps if it was made from another type of wool.
Sent April 8, 2014
Hello Kathleen,
Thank you for following up.
Regarding fit, it was a bit small and did not cover my entire head. I had a similar beanie to yours and used it to roughly estimate size for my order.
It did keep my head cozy and warm. With regular wear, it became just my size and now covers my entire head. I followed the wash care instructions you included and am a satisfied customer!
I hope that this has helped.
Sincerely,
N.S., Decatur, GA

Sent October 09, 2013
Subject: Re: Blue Purple Double Rib Knit Beanie Hat Tuque
Hi. It came in the mail today and it's perfect!
Thanks –
K.W., Northampton, MA
August 23, 2012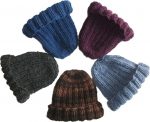 We received the hats today. My supervisor is pleased with them . . . . The hats are for an opera called The Two Foscari that will premiere next month.
Thanks again!
Claudia, Los Angeles Opera Company
August 18, 2012
The hat arrived today. And, I love it.  Thank you. Fits fine.
Ann M., Fort Collins, Co
July 30, 2012
Hi Kathleen,Well what do ya know I received the beanie today – always the way 🙂 It's great I love it it's a gorgeous beanie! Fits my head perfectly and the headband is great, thanks so much.
Tara, Adelaide, SA
February 8, 2012
Hello Kathleen, Just a quick message to let you know that the pattern arrived today.  Thank you again for your wonderful service.
Liz, Ontario, Canada