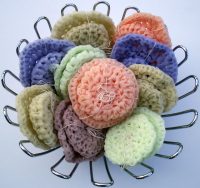 For Kitchen, Bath, Shop: Hardworking and attractive nylon scrubby two-packs.
Enough, but not too much scratch for wiping out non-stick pans in seconds. Tulle scrubbies catch small spots and angles that washcloths and rougher nylon net miss.
Perfect for cleaning cupcake pans, bath sinks, feet that have been in sandals, crafts, . . .
Blue Grape, Orange Peach, Pistachio Green, Cream Ecru, Beige Pink. For more info. and to order, click the photo.