Fleece Beanie Gaiter Neck Warmer Combo Sets "No Capes!!!", No Scarves!!! to drop into fan belts, deer racks, or mud, to catch on seat belts, doors, and Christmas trees .  . . 
The insouciant Slouchy Hat in Muddy Gray and Brown.
Gray material has a polished sheen: wear for sports or dress. Choose a size larger for more slouch and to double over reversible gaiter. Click on the Hats for more information and to order.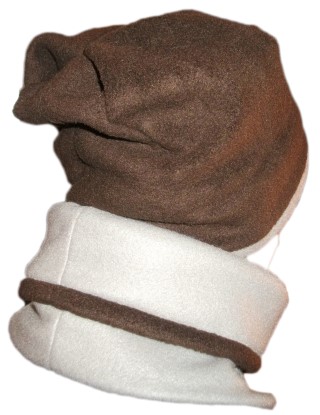 Loom-knit, sunny-colored hat, reversible. No seams. Cuff is knit into place.
Fleece beanie in wave pattern, aqua, mimosa yellow, gray, white, bright green, with cuff. Can be worn as tall ski beanie or with cuff turned up.
Co

lor matching fleece gaiters

in zigzag or wave patterns are double layers, reversible

For more details and to order small, medium, or large sizes, CLICK the photos.


Fleece beanie and neck gaiter set in gray and blue. Hat has doubled cuff for headband warmth. Gaiter is double-layered, reversible. Request sizes custom made by measurement. For details and to order, click photos or  here.



New, extra

-thick loo

m-knit cowl /

neckwrap, neckwarmer. Blue, fuschia pink, green, orange, purplish gray, mohair-like yarn. Three buttons to adjust shape and fit. Warm and washable. 100% acrylic.  For sledding, hiking, dress, skating, skiing.
For Details and to ORDER, CLICK the photos.

Oh So Light Knit Beanie Cowl Neckwrap Set
Carefree, Featherlight Baby Yarn and Colors for an Oh, Baby! Look
Thick, cotton wrapped yarn handknit into a go-anywhere beanie and cowl neckwarmer. Mix with jackets, sweaters, tops & leggings, jeans, cropped pants, skirts, dresses, indoors and out.
Wear as Mother-Daughter set, cowl as a headband for Mom, beanie for Daughter. Request custom child beanie and adult headband sizes and prices by email or phone, $28 to $38.
For More Colors, Details, and to ORDER, CLICK the Photo.

Knit Headbands, Neckwarmers, Cowls, Beanies – Wool, Mohair Basket Weave

– Soft, Springy Warmth