Description
Classic Mary Englebreit illustration – Three children in 1900s summer costume carrying gifts and flowers for a bride – red and white squares for a background – stylized falling tulips, petunias, roses –  ribbons, dove, parasol, hearts, trellis, and green grass to frame the small parade.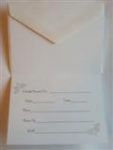 Bridal shower card with white envelope. 4″ by 5 1/4″. Excellent, unused condition. From Our Wedding Journal series.
Copyrighted 1995 by Mary Engelbreit Ink. ME trademark and Signature Message: This illustration is by Mary Engelbreit, who thanks you from the bottom of her heart for buying this card. Published by Sunrise Greetings, product # MEI 3640.
Stored in no smoking, no pets environment.
Price is per card + envelope.