Description
Scrubbies and Dishcloths Made from Scrubby Sparkle Yarn by Red Heart and 100% Cotton Yarn. Gray, blue, red, purple gifts for the kitchen!
Cleanup helpers in shiny colors for the non-stick, aluminum, stainless steel cookware, and more, in your home or business.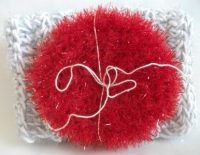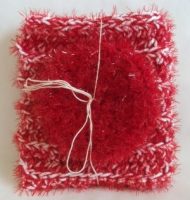 Each pack has a round scrubby and rectangular dishcloth. Scrubbies are 100% Polyester. Dishcloths are 1/2 scrubby polyester and 1/2 100% cotton. The scrubbies look like sea urchins!
Machine wash in warm water or at top of dishwasher. Air or tumble dry low. Not for cast iron or other rough surfaces.
Small: 3 1/4″ to 3 1/2″ diameter scrubby; 6″ x 9″ dishcloth.
Large: 4″ diameter scrubby; 5 1/2″ x 12″ dishcloth
Extra Large: 5″ diameter scrubby; 6 3/4″ to 7″ x 12″ dishcloth
Scrubbies are 3/4″ to 1″ high
4 colors available in stock: grape, gray, light blue, strawberry. Mixed colors/mixed sizes are potluck – an attractive combo of 2 colors in varying sizes and shapes – $12.00.
Special request colors: avocado, blueberry, lemon, licorice, marshmallow, orange, pink grapefruit, or watermelon.
To special order a color, click on correct size and any color, and enter your request color in notes at checkout. Please allow extra time for yarn delivery (1-7 days). There may be an extra shipping cost for a special yarn order. You will be able to approve this or cancel your order.
To see other colors, please visit https://www.redheart.com/yarn/scrubby-sparkle